Einladung zur heutigen offiziellen Kampagneneröffnung von Fluchthilfe & Du in der Wiener Secession!
Donnerstag, 20. Februar 2014 um 19h
Adresse: Vereinigung bildender KünstlerInnen Wiener Secession,
Friedrichstraße 12, A-1010 Wien
mit
Rahim Ihsan (Refugee Protest Vienna)
Shakil Mohmand /Refugee Protest Vienna)
Yusuf Haibeh (Refugee protest Vienna)
Michael Genner (Asyl in Not)
Katarzyna Winiecka (Künstlerin, Mitinitiatorin von Fluchthilfe & Du))
Oliver Ressler (Künstler, Kurator)
Moderation: Simonida Selimovic
fb-event: https://www.facebook.com/events/254669454710724/?ref_newsfeed_story_type=regular
weitere Infos unter:
fluchthilfe.at
http://www.secession.at/art/2014_fassade_d.html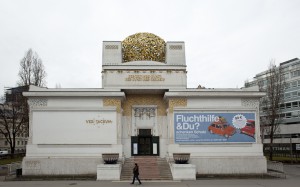 Pressetext:
#1
Fluchthilfe & Du?
Fluchthilfe & Du thematisiert die Kritik am EU-Grenzregime und an dessen Migrationspolitik, welche von der selbstorganisierten Refugee-Protestbewegung in Wien aufgeworfen wurde. Formal bezieht sich das Banner Fluchthilfe & Du?auf eine aktuelle Kampagne der Caritas, die mit einem Appell an Nächstenliebe Spenden sammelt, während sie sich gleichzeitig von den als "Schleppern" bezichtigten Menschen abgrenzt, die Flüchtlingen den Weg nach Österreich und zu einem Asylverfahren überhaupt erst ermöglicht haben. Fluchthilfe & Du begreift Fluchthilfe als Dienstleistung, als Kampf für Bewegungsfreiheit und wirbt öffentlich um Unterstützung.
Die Arbeit entstand in Solidarität mit denjenigen Aktivisten der Refugee-Bewegung, die unter dem Vorwurf, Teil einer internationalen Schlepperorganisation zu sein, seit Juli 2013 in Untersuchungshaft sind. Obwohl die Vorwürfe, dabei Millionen verdient und Menschen auf der Flucht in Gefahr gebracht zu haben, sofort widerlegt werden konnten, werden sie bis heute vom Innenministerium kriminalisiert.
20. Februar 2014, 19.00 Uhr
Offizieller Kampagnenstart der neuen Organisation Fluchthilfe & Du
Weitere Informationen unter www.fluchthilfe.at

—
#1
Fluchthilfe & Du?
Fluchthilfe & Du addresses the critique of the EU border regime and its migration policies expressed by the self-organized refugee protest movement in Vienna. The design of the banner, titled Fluchthilfe & Du? (Escape Aid & You?), echoes a current campaign by the Caritas, which collects donations with an appeal to charity while distancing itself from those it denounces as "human smugglers": people whose assistance to refugees made it possible for them to come to Austria and apply for asylum in the first place. Fluchthilfe & Du envisions aid to refugees as a service and publicly solicits support for their struggle for freedom of movement.
The work was created as an act of solidarity with those activists of the refugee movement who have been held in custody since July 2013 and accused of being members of an international human smuggling organization. The charges—they supposedly made millions and endangered the lives of refugees in transit—have been rebutted, but the Austrian interior ministry continues to criminalize them.
February 20, 2014, 7 p.m.
Official campaign kickoff of the new organization Fluchthilfe & Du
For more information please visit www.fluchthilfe.at