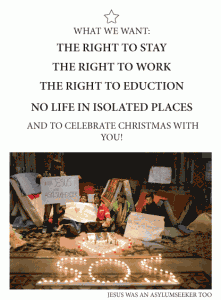 English version below
Bitte weiterleiten und weitersagen
Liebe Leute,
Wir, die Flüchtlinge vom Sigmund-Freud Park, haben die Ehre, Sie einzuladen zur schönsten Weihnachtsfeier der Stadt im Flüchtlingscamp vor der Votivkirche.
Am 24.12. ab 22 Uhr gibt es eine große Weihnachts-Party!
Ab 18 Uhr Blechtonnenlagerfeuer mit Kinderpunsch.
Denn: Der 24. Dezember ist ein großer Feiertag.
Wir feiern, dass seit einem Monat täglich die Würde siegt über die Demütigungen des Asylsystems, die Solidarität sich als stärker erweist als die Wohltätigkeit, die vielsprachige Verständigung, die tägliche Zuhör- und Übersetzungsarbeit triumphiert über die Taubheit derjenigen, die gar nicht zuhören wollen.
Vor einem Monat, am 24.November, marschierten wir 25 km vom zentralen Flüchlingslager in Traiskirchen nach Wien um gegen die menschenverachtenden Zustände im Umgang mit Geflüchteten zu protestieren.
Dass wir beengt in überbelegten Unterkünften untergebracht werden.
Dass uns Dolmetscher zugeteilt werden, die wir oft als zynische Handlanger eines rassistischen Systems erleben.
Dass man uns von der staatlichen Wohlfahrt abhängig macht, weil man uns nicht erlaubt zu arbeiten.
Dass man uns ohne angemessene Prüfung unserer Fälle Asyl in Österreich verweigert.
Dass man uns, aufgrund der "DUBLIN"-Verordnungen, nicht erlaubt in einem andren europäischen Land darum anzusuchen.
Dass uns das elementare Menschenrecht auf Freizügigkeit genommen wird. (Erst dürfen wir Traiskirchen nicht verlassen, – eine Fahrt nach Wien wird mit 200 Euro bestraft-, dann werden wir in entlegene Dörfer transferiert, abgeschnitten von FreundInnen, von Rechtsberatung, von solidarischen Menschen und Comunities.)
Dass wirtschaftliche und soziale Not nicht als Fluchtgrund anerkannt werden.
Nachdem nach über drei Wochen Protestcamp im Sigmund-Freud-Park vor der Votivkirche und 2128 Unterstützungserklärungen solidarischer Menschen auf unserer Website (http://refugeecampvienna.noblogs.org/) immer noch keine/r der verantwortlichen PolitikerInnen sich auch nur zu einem Gespräch bereit gezeigt hätte, suchten wir am Dienstag den 18.12. Schutz und Hilfe in der Votivkirche.
Daraufhin luden die Caritas und die Katholische Kirche zu einem Runden Tisch mit VertreterInnen von NGO's und dem Innenministerium und drei von uns protestierenden Flüchtlingen.
Am Freitag, kurz vor dem Treffen, durchkämmten über zwanzig Polizisten das Flüchtlingscamp am Sigmund-Freud-Platz. "Routinekontrolle" nannten sie diese Einschüchterungsmaßnahme, bei der vier Flüchtlingen ihre Asylkarten abgenommen wurden.
Daraufhin gingen alle Flüchtlinge zum Runden Tisch, es wurden aber nur fünf von uns zugelassen. Die Caritas bot dann allen protestierenden Flüchtlingen warme Unterkünfte an. Wir lehnten das Angebot ab, denn wir haben diese Kampagne nicht gestartet, um warme Unterkünfte zu bekommen, sondern damit unsere Forderungen erfüllt werden.
Wir lehnen es ab, die Kirche und das Camp zu verlassen, so lange unsere politischen Forderungen nicht einmal ansatzweise ernst genommen werden.
Wir fordern weiter:
Das Recht zu arbeiten.
Das Recht auf freie Wahl des Aufenthaltsortes.
Die Löschung der Fingerabdrücke aus der europäischen Fingerabdruckkartei Eurodac, wenn ein Asylverfahren negativ beendet wurde, so dass man in einem andren EU-Land erneut einen Antrag stellen kann.
Bleiberecht für alle jetzt in Österreich lebenden Flüchtlinge und Asylsuchenden, also eine einmalige Legalisierung aller Menschen ohne Papiere, wie es das in Frankreich und Spanien schon öfter gab.
Das heißt:
Wir bleiben also nicht etwas deshalb weiter in der Votivkirche und im Camp, weil wir nirgends anders unterkämen, sondern weil wir den Kampf um Menschenrechte für alle nach Österreich Geflüchteten für wichtiger und bedeutsamer halten als eine warme Nacht heute, morgen und übermorgen.
Weil die politisch Verantwortlichen, statt unsere Forderungen zu erfüllen, uns mit der Polizei einzuschüchtern versuchen, beschlossen wir am 22.Dezember um 23 Uhr, in den Hungerstreik zu treten.
Also: Kommen Sie am 24.Dezember ins Flüchtlingscamp.
Bringen Sie Kekse und Kinderpunsch mit. Auch Brennholz und warme Decken sind hilfreich.
Bringen Sie ihre winterfesten Musikinstrumente und ihre BandkollegInnen und spielen Sie ein Lied für die Würde und die Menschenrechte für alle.
Nehmen Sie ihre Kinder mit, erklären Sie ihnen, was passiert, es ist ein historischer Moment, in dem man mehr über Politik lernen kann, als in jeglicher Schule oder Universität..
Bis 22 Uhr Zusammensitzen am Blechtonnenlagerfeuer,
ab 22 Uhr große, laute, fette Weihnachtsparty
Im Flüchtlingscamp am Sigmund-Freud-Park. U 2 Schottentor/ Universität.
Unterstützen Sie unsere Petition:
http://refugeecampvienna.noblogs.org/support/petition/
Dear citizens,
We, the refugees from the camp in the Sigmund-Freud-Park have the honor to invite you to the most beautiful christmas party of the town that will be happening in front of the Votivkirche.
On 24th of december from 10p.m. on we will have a Big Christmas-Party with music.
From 6 p.m. you are welcome to sit around the fire and exchange eexperiences.
Because:
The 24th of december is a big festive day.
We celebrate that for one month daily dignity prevails over the humiliations of the asylum system.
That solidarity prooves to be stronger than charity.
That the multilingual and intercultural comunication, the daily work of translation triumphs over the deafness of those who do not want to listen.
One month ago, on 24th of november, we, refugees from different countries, marched 25 km by foot from the central refugee camp in the village of Traiskirchen to Viena in protest against the inhuman conditions in the asylum system.
That we have to live in overcrowded camps.
That we are provided with interpreters that we often feel as henchmen of a racist system.
That we are made dependent from state welfare because we are not allowed to work and earn our own money.
That we are abnegated asylum without any decent examination of our cases.
That the DUBLIN- law doesn't allow us to ask for asylum in any other european country. than, where we first arrived.
That we are denied the basic human right of free movement.(First we are not allowe to leave Traiskirchen, if we do so, we have to pay 200 Euros of forfeit, then we are distributed to camps and shelters in remote villages, far away from friends, solidarity and legal advice.)
That economic and social affliction are not accepted as reasons for asylum.
After three weeks of protestcamp in the Sigmund Freud Park and 2128 supporters of our struggle on our website (http://refugeecampvienna.noblogs.org/) none of the politically responsible persons of the high authorities was willing to talk with us.
So on tuesday 18th, we entered into the Votivkirche in order to seek for help in the church, where we stay till now.
This finally provoke the Caritas and the Catholic Church to invite representatives of NGOs and of the ministery of the interior to sit on a round table with 3 representatives of our protesting refugees.
Shortly before the round table, 20 policemen searched the refugee camp in order to intimidate the protesters.
All the refugees of the camp went to the round table meeting,. But only 5 of us were admitted.
On the round table the Caritas offered warm places to stay to all of the protesting refugees. We rejected this offer, because we didn't start this campaign to get warm beds, but to archieve our demands.
We refused to leave the protest camp and the Votivkirche as long as our political demands are not taken and discussed seriously.
We go on claiming:
The right to work.
The freedom of movement.
The extinction of our fingerprints from EURODAC, after closing an asylum case negatively, in order to make it posible to ask for asylum in another european country.
The right to stay in Austria for all the refugees and migrants who live here in this moment.E.G. an general legalisation or amnesty as it had been realized in Spain and France severall times.
That is to say:
The refugees stay in Votivkirche not because we would not find any shelter, but because we consider that our fight for human rights for all refugees in Austria is more important then a warm night today or tomorrow.
Because the higher authorities instead of fullfilling our demands started to intimidate us with the police, we decided to go on hungerstrike on saturday 22 of december , 11 p.m.
At this moment, there are 27 refugees on hungerstrike.
Come to the refugee camp today!
Bring sweets, firewood and warm blankets.
Bring your instruments and your friends and sing us a song for dignity and human rights for everyone.
Bring along your children.
They will learn more about politics then in any school.
From 6 p.m. : sitting at the fire.
From 10 p.m.: Big loud Christmasparty.
In the refugee camp in the Sigmund-Freud-Park. U 2 Schottentor/ Universität.