Celebrate the Opening – Vernissage with us and bring your friends: Friday, sept. 20th, 7p.m. Bring your friends!
Kommt und bringt Freund*innen mit – wir feiern die Eröffnung der Ausstellung am Freitag, 20.Sept., 19h!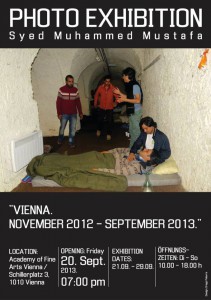 Works of Photographer Seyed Muhammed Mustafa
Vienna November 2012 – September 2013
Öffnungszeiten: 21.09.-29.09.2013
Di – So
10-18h
Opening hours: 21.09.-29.09.2013
Tue-Sun
10a.m. – 6p.m.
https://www.facebook.com/events/563700293679902/