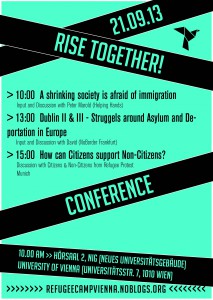 Saturday, 21.09.2013, 10.00 – 17.00,
HÖRSAAL 2, NIG (Neues Universitätsgebäude) Universitätsstr. 7, 1010 Wien
On the day after the demonstration we want to gather for talks and discussions. We want to push the refugee protest forward, not only by increased visibility in the streets but also by exchanging knowledge and ideas. To make this possible we call for the Rise Together! Conference.
Three sessions will focus on topics of concern for anti-racist struggles: The first talk will focus on migration and the European attempts of regulation. The second will provide a look at the upcoming new Dublin III regulation that promises a "Common European Asylum System". The third and last session opens the question how people with European passports can support protesting refugees – and how they should not.
Between the talks there will be time for discussions, to get to know each other and exchange ideas.
All sessions will be held in English and will take place at HS 2 at NIG (Neues Instituts Gebäude) at the University of Vienna (Universitätsstr. 7, 1010 Wien). Kick-off is at 10 am.
10.00 am – A shrinking society is afraid of immigration
Input and Discussion with Peter Marhold (Helping Hands)
The wall around an "Area of freedom, security and justice" is growing. Useful concepts on migration are blocked by national egoism, the common denominator is just an asylum system the member states want to get rid of, but without loosing their influence. A common migration strategy allowing for real freedom of movement within Europe is far away.
12.00 am Lunchbreak
01.00 pm – Dublin II & III – Struggels around Asylum and Deportation in Europe
Input and Discussion with David (NoBorder Frankfurt)
Dublin II and III are regulations, that distribute the responsibility for asylum procedures between the european Memberstates. They deny asylum seekers the right to choose the state in which their asylum claim is processed. The Dublin Regulation is enforced by a repressiv system consisting most obviously of the biometric fingerprint database Eurodac and the huge number of innereuropean deportations. This presentation shall discuss the political ideas at the base of the Dublin Regulation as well as the funktions, that the regulation plays in the european migration- and borderpolitics. Apart from this, the interests of different political acteurs concerning the regulation as well as conflicts and struggels around it shall be another topic of the presentation.
03.00 pm – How can Citizens support Non-Citizens?
Discussion via Skype with Non-Citizens & Citizens from Refugee Protest Munich, Germany.
ALL INPUTS AND DISCUSSIONS WILL BE HELD IN ENGLISH.
NO BORDER! NO NATION! WE WILL RISE